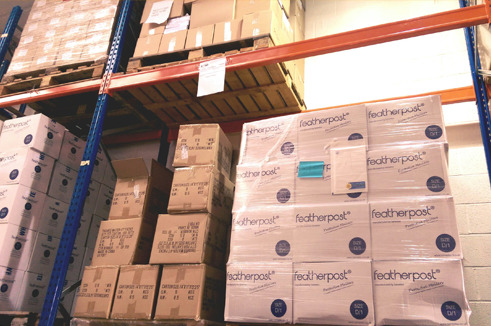 Established in 1988, SOLO Mailing Services became part of SOLO Managed Services UK Ltd in 2009 but the values of the original family run business still run through its veins. Every SOLO employee understands the importance of our relationship with our customers and the company as a whole works together to offer customers a seamless, start to finish, solution.
As well as our automated enclosing machines, we also have a dedicated team of individuals who are carefully orchestrated to respond rapidly to your requirements. Hand enclosing is our forte and we can assemble and pack small or difficult items with ease.
Our mission is simple. To offer the very best service possible to our customers, without compromise, for a fair and reasonable fee. Our business is based on the relationships we have with our clients and our overall philosophy reflects this approach.
We assist our customers by relieving them of their burden. In handing us a project, your deadline becomes our deadline. Though our prices are competitive, we endeavour to have our eye firmly fixed on the value we offer. We work hard to earn your business in the first place and thereafter we work even harder to keep it.  Many of our customers have been with us in excess of 10 years, from large utility organisations, to smaller stakeholder engagement companies.
Our Environmental Policy
At SOLO we are proud and passionate about our commitment to improving the future of our environment. We successfully launched our own in-house environmental policy in 2008 in a bid to shape our business for the future.
In January 2009 we achieved ISO 14001 accreditation which has been successfully audited each year since.
All paper based products that we use are derived from responsibly sourced materials.  This includes letterhead, carrier sheets and envelopes for every job we do, every time we do it.  We also offer a full range of recycled paper based products to help our customers to comply with the Royal Mail's Sustainable Mail services.
All the polythene we use is 100% recyclable.
Once agreed with the customer we recycle all leftover materials from our customers' mailings upon completion of each job. This includes leftover letterhead, magazines and mailers. We recycle using an accredited organisation that hold a license with the Environment Agency.
Please feel free to give us a call if you would like to discuss any of the environmentally friendly products we offer.
Our Quality Policy
SOLO is dedicated to providing the highest possible standards of quality for its products and services
We are proud of our excellent reputation for responsible practices and dedicated client care.
The company defines quality as the conformance of products and services to established, documented requirements that are derived from client needs and employee expertise and experience.
SOLO's quality management system, that has been successfully audited to ISO 9001 standard for the last 20 years, is constantly monitored and reviewed to provide continuous improvement.
A copy of our quality policy is available on request.
GDPR and our Data Protection Policy
The General Data Protection Regulation (GDPR), designed to strengthen data protection for individuals within the EU, became law on 25th May 2018.
SOLO is fully compliant with GDPR and ensures that all personal data is processed fairly, lawfully and transparently, without ever adversely affecting the rights of a data subject.
We believe that the Regulation offers a great opportunity for businesses to build more transparent and trust-based relationships with their customers and contacts, and SOLO can help you every step of the way to ensure that your mailing is handled appropriately and lawfully.
In March 2018, SOLO was successfully audited by an independent certifying body to meet the internationally recognised ISO27001 standard – Information Security Management Systems. The GDPR encourages the use of schemes such as this to serve the purpose of demonstrating that an organisation is actively managing its data security in line with international best practice.
Please drop us a line if you'd like to receive copies of our other policies relating to data protection:
Acceptable Use of Assets Policy
Access Control Policy
Operating Procedures for Information & Communication Technology
Policy for Handling Classified Information
What sets us apart?
Trust is an earned commodity. We understand it is born of a relationship over time and it builds slowly and carefully. We will never give you cause to doubt us and you will always be aware of exactly when and how your work is being undertaken. No hidden charges, no fuzzy deadlines, no disappointments.
There is no more important business tool. Clear and concise communication with our customers is at the core of our business. Project details will always be confirmed in writing for approval prior to to any work taking place. It matters to us that we understand your needs and that we are acting in accordance with your wishes.
There is a lot to be said for a sustained business relationship built upon individuals; it is always easier to deal with those you have successfully dealt with before. That's why your SOLO Account Manager will understand the way you prefer to work and will always be there to help you to coordinate the myriad of tasks that surround each mailing campaign.
Timing is everything… If your mailing is time sensitive you can rest assured that SOLO will deliver on time every time. At the start of the project we agree a mailing date and when we will receive data/materials. As long as those items are with us on or before the agreed time, we guarantee to have your mailing out on time! If we fail, you pay only the postage costs… all SOLO services are FREE
Meet The Team
Petra Thompson
Managing Director
Nicola Stack
Technical Director
Clare Docherty
Accounts Manager
Rebecca Sherwin
Account Manager
Rose Williams
Project Co-Ordinator
Andrew Bennett
Software Developer
Sarah Bailey
CRM/BI Analyst
Vaidas Grazulis
Business Applications Developer