Mailing & Fulfilment
SOLO provides a full range of mailing and fulfilment services.  From storing and picking orders, to handling returned mail and updating databases.  SOLO understands that every project has individual requirements, and our staff are well versed in handling the requests of our customers, and our customers' customers.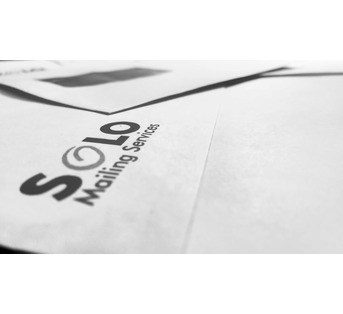 Specialising in hand-enclosing, we can (and have!) packed all sorts of items over the years. Ranging from packets of crisps to double-ended bottles – no job is too unusual for our experienced team.
No matter how unique your mailpiece is – in addition to fulfilment, SOLO can help source the goods to be mailed, along with any bespoke materials required for enclosing.
SOLO not only has automated folding and enclosing machines, but also a flexible contract labour pool, so no matter what the size or urgency of the job, we can accommodate our customers' requests at very short notice.  Mailings are often handled same-day or overnight, providing excellent turnaround times.  Superior quality control measures ensure accuracy is never compromised by speed.
Envelope supply
Each month SOLO purchases thousands of envelopes of all shapes, sizes and colours, promoting recycled materials wherever possible.  The purchasing power we have with our suppliers allows us to offer envelopes and polybags to our customers at discount prices.  Whatever your envelope requirements, we will be happy to source these as part of any job.  Find out more about our printing services.

Postal services
As a mailing house, SOLO has the ability to optimise both UK and overseas postage savings on the behalf of our clients.  If your mailing meets certain criteria, postage discounts can be utilised.  Even if your mailing is not large enough to qualify for a 'sorted' or barcode service, there are other options available to ensure your postage savings are maximised.