Laser, Inkjet and Digital Printing
SOLO can accept your documents, data and graphics via email or ftp, then produce envelopes, mailers and personalised letters. We sort qualifying data prior to printing, maintain the sequence throughout the printing and packing process, so obtaining the maximum postal discounts available from Royal Mail and other downstream access providers (DSAs).
Laser
SOLO laser print in black and white or colour, single-sided or duplex on a variety of media up to A3 in size. We print on your own company stationery or supply stock if you prefer. Laser printed documents can be automatically collated, stapled and finished as required.
Inkjet
SOLO print up to A3 full colour duplex on a state of the art high speed inkjet printer at around 65ppm (120ppm for A4). This remarkable printer is capable of printing on up to 210gsm card using a single pass cold process which can print to within a few millimetres of the edge of the page.
Envelope addressing and printing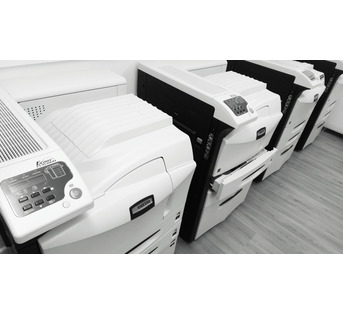 SOLO can print thousands of envelopes per hour on a high speed envelope printer with customer name and address information. The high quality inkjet addressing system can handle custom sized envelope, paper or card stock and can also print filled envelopes if required. SOLO also provide a label printing service for those pieces unsuitable for direct addressing, along with pre-printed franked address labels for packets and parcels that cannot be run through a standard franking machine. If addressing is required on envelopes being printed with logos or banners this can be done in a single pass.
Postage Paid Impressions (PPIs), return addresses and customer supplied graphics are applied to stock envelopes in black and white using the Risographic wet printing technology. All layout is digitally ripped and can be setup for even the smallest of quantities. Setup time for new projects is usually less than fifteen minutes. This printing technique is also suitable for single-side or duplex document duplication.
Inkjet envelope printing on our high speed colour printer opens a vast array of possibilities as full colour graphics can be laid down on the envelope at the same time as the customer name and address. Graphics can also be merged during the run so that different customers receive different pictures on the envelope face. The possibilities are endless and the prices are often more favourable than short-run litho!
Litho and digital printing
SOLO offers a complete print management service and can service all your creative and print needs. We have developed partnerships with tried and tested suppliers to ensure that we offer you the best possible solution for your project at a competitive price.