Water Company
SOLO Mailing Services has been helping this water company communicate with its customers for the over 18 years. It has built a strong relationship, based on exceptional service and going the extra mile for a growing number of departments within this large and varied organisation.
The UK's largest water and wastewater service provider
The company has more than 15 million customers – a quarter of the population of the UK – and employs around 4,700 people. They serve more than nine million clean water customers in London and the Thames Valley and supplie an average of 2,600m litres of drinking water per day. To do this it operates and maintains 102 water treatment works, 30 raw water reservoirs, 288 pumping stations and 235 clean water service reservoirs. It also has 350 sewage works treating an average of more than 4.4bn litres of wastewater per day, 67,000 miles of sewer, 2,530 pumping stations and 1.2 million manholes.
Running an organisation of this size and complexity requires rigour; each of the multiple departments needs a wealth of processes to service their needs, not least a fast, efficient and cost-effective way of communicating with customers. SOLO has become invaluable to them in helping to deliver this critical business process.
Delivering an end-to-end service
SOLO Mailing Services delivers much more to Thames Water than its name implies. Over the years, SOLO has not only provided its specialist mailing and fulfilment services to Thames Water, it has also:
Set up and maintained websites for ordering free water-saving products
Stored and managed stock
Arranged logistics for events
Cleansed and processed data
As a result, today it is a well-established and integral supplier to the business. SOLO has adjusted and expanded its core offerings in order to cater for the needs of Thames Water, efficiently dealing with the challenges that are thrown its way.
Operating the water-saving freebies website

SOLO Mailing Services delivers much more to this water company than its name implies. Over the years, SOLO has not only provided its specialist mailing and fulfilment services, it has also:
In addition to the freebies website for domestic customers, SOLO has also built other sites including:
An e-commerce site
Another freebies site for commercial customers
A product ordering site for trade partners
All of these sites run alongside a stock management system that helps to ensure efficient handling of orders from receipt to despatch.
Holding stock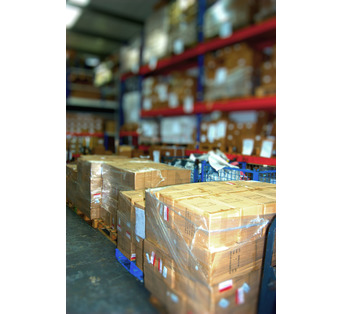 Besides maintaining the websites and processing orders, SOLO also stores and manages their stock. This consists of water-saving devices, exhibition stands and materials for use at events. All stock is controlled through an effective stock management system, set up and tailored to their needs. This enables SOLO to provide detailed reports to the client on a regular basis.
As well as on-site storage, SOLO also has an external facility where it can store hundreds of pallets. This is a local depot where pallets can be picked up same-day if stock is urgently required.
Mailings
SOLO process mailings for various teams across the business. It also handles short-notification communications when urgent repair works need to take place. This can consist of 20 mailings per day, each containing up to 200 addresses to be mailed. As long as these mailing requests are received by an agreed time, SOLO will process the data, print the letters and envelopes, fulfil and despatch on the same day.
SOLO is also responsible for helping the company with twice-yearly customer surveys. This includes sending out a letter and survey to the participating customers and providing a facility for those who wish to submit their response online. All data from paper submissions is captured and then all responses are sent back to the client to evaluate the feedback.
Database management and cleansing
SOLO maintains customer data received through product orders and installation visits from trade partners. This data can be used in many ways, from evaluating the effectiveness of campaigns to customer mailings.
As the address data is automatically verified when an order is placed via the website (i.e. cleansed), there is little need for any additional data work, resulting in reduced costs for the client.
The Water Efficiency Manager, said: "The SOLO team is exceptionally resourceful and has the ability to turn projects around very quickly. I know there is a lot that goes on behind the scenes which ultimately means that we get what we want, when we want it. Part of SOLO's contract is around the recommendation of new water-saving products which involves researching the market. The team is very personable, knowledgeable and is always available when we need an extra pair of hands. Any problem, no matter how large or small – SOLO is on hand to help."